LIFE Power Cylinder
LIFE-PowerCylinder : Innovative system inside the hydraulic cylinder for demolition tools. Here we are! The project activities started in September 2021 with the full commitment of the partners.
READ MORE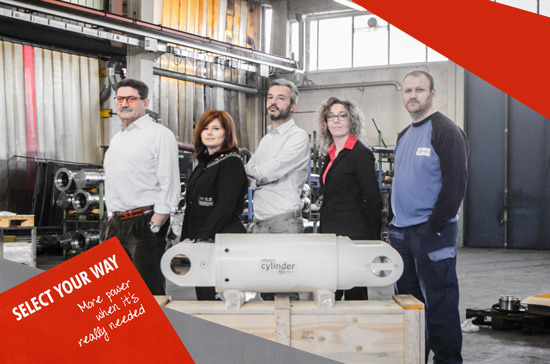 THE CYLINDER SMART AND CLEVER
Smart cylinder is the result of research carried out by Sighinolfi to create an advanced product that would allow to adapt its performance to the context of use. Smart Cylinder new technology drives into new design rules that allow material and energy saving. The embedded hydraulic control works non-stop and precise, it enables cost saving each run.
READ MORE
IT REDUCES DIMENSIONS AND INCREASES POWER, this is smart!
The new hydraulic cylinder that adapts its performance to the background. Powerful and accurate, it exalts the concept of high pressure generated by thePiston Power amplifier to reduce weights, increase speed and save energy.
www.smartcylinder.it
BAUMA 2016
During the important exhibition which took place in Monaco last April we invited partners and new friends to join a workshop to talk about how the Sighinolfi hydraulic cylinders are dimensioned, protected from corrosion, and used in advanced systems for high pressure.
At the end of the evening a relaxing moment in front of a hot dish in Bavarian style!
MAY THE MONTH OF RECORD
The longest, the biggest, the heaviest ... everything happens in May 2016.
For you the pictures of our cylinders >BIG SIZE<
PISTON ROD PROTECTION extreme and high corrosive environments
We protect the piston rod of our hydraulic cylinders by means of surface treatments and coating which are studied in a very close cooperation with our customers and certified by a research together with universities and suppliers. The process encompasses different steps:
Thermal spray of metallic super alloys HVOF
Fusion welding of metallic super alloys PTA
Nickel Chromium
Hard chrome plating
Induction hardening
Nitriding